Beth interviews Jonathan Siegrist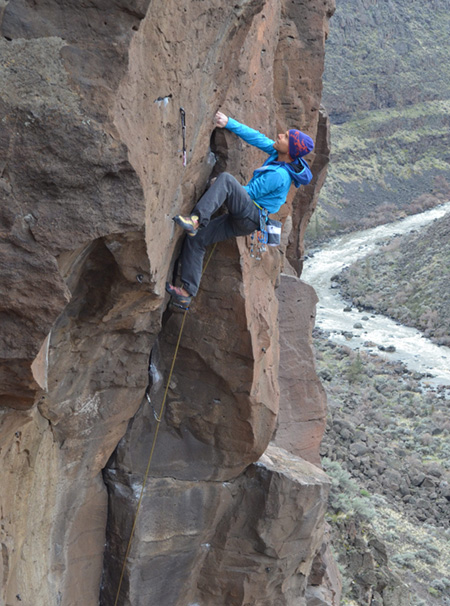 Photo: Brooke Sandahl
I first met Jonathan Siegrist in the Boulder Rock Club in Colorado. He was a kid route setting during his time off, and had psyche oozing out of him. Since then, he has gone on to become one of the most accomplished climbers out there today. Not only is he pushing the limits of sport climbing, with his recent ascent of the famed Realization (5.15a in Ceuse, France) and his rare repeat of Kryptonite (5.14d in Colorado). But he continues to transfer that to trad climbing and big walls as well, having climbed numerous 5.13 and 5.14 routes.
One of the best things about Jonathan is his super-humble and even-keeled attitude. You would never know that he was one of the best out there as he never boasts about any of his accomplishments.
He also has one of the best climbing blogs around (http://www.jstarinorbit.com/). He was kind enough to do an interview with me after his amazing ascent of Realization. Hope you enjoy!
Tell me a little about your climbing history. I know you grew up in Colorado and spent a ton of time in the mountains. How did that influence your climbing?

Yes, as I was growing up, my family and I actually moved quite a bit before settling in Boulder when I was in Middle School, but we made a summer trip to Estes Park every year my whole life. My parents would both drag me up hikes and my dad would bring me up lumpy ridge 5.5's and easy climbing several times a year. It's funny to imagine me 'belaying' my Dad back then, but he had confidence in me I guess! I was around climber culture and climbers essentially my whole life but although I loved the mountains and being active in them, I didn't actually take to climbing at any serious stoke level until I was 18.
How has climbing with your dad had an impact on you and your climbing?

I think in large part it was a way for me to come up with a sense of respect for history and also just a general knowledge of how to conduct yourself in the outdoors, which I feel many new climbers now lack. He was always very adamant about safety and teaching me both how to be smart but also how to be respectful and what not to do in the mountains, etc. Moreover, he has just been an extremely supportive and reliable climbing partner and mentor. Most people will never have a partner as supportive and excited about their success as my dad has been in mine.
Tell me a little about your journey to send Realization. What were the highs and lows?

The journey definitely started in December of 2013 when I set the goal to climb into the next grade and more specifically to hopefully climb this route. I began working with a trainer for the first time in my climbing - Mark Anderson - and he really helped me to break out of some bad habits and helped to hone my psyche. By the time I arrived in France I knew that I had improved as a climber, I was confident of this, but I had no idea if I had improved enough. So I just took it day by day, reminding myself that regardless of progress or not, that I had worked my ass off for months to be there and I was not willing to give up, even if it meant that I would walk away 2.5 months later empty handed. There were ups and downs because of weather and skin and partners and progress of course...sall part of the process. And it was all worth it for sure.
You are very well rounded in your climbing, including sport and trad. What are some of your plans for the future with regard to both?

Well that's an enormous compliment coming from you Beth! So thanks. I am heading back to Colorado in a few weeks to do some climbing in the alpine there. And otherwise I generally would like to slowly adapt my sport climbing experience more and more to walls, and especially new routing. This is where I would like to see my whole climbing thing end up.
You are a full time climber. How do you plan out your year?

Well, I love to plan. So I'm always thinking ahead, hearing suggestions, taking tips for new places and also building on my experience from years past. Obviously I plan hugely based on the climate and seasons. There are certain places I want to generally be at certain times of the year, but also there are certain times when I know I can perform better. Early summer seems to be a really good time for me because I've likely been training more through the winter for instance. I'm usually about 8 months to a year planned out, with a few variables, but I also try to stay flexible if something rad comes up.
If you could have your ideal day, in your ideal place with your ideal partner, what would it be?

Exploring for new stone with my dog Zeke in some rad new spot, listening to good music, friends nearby and a campfire waiting! Or poolside at the Wynn in Vegas, mojito in hand. That would work too.
What are your 3 favorite pieces of Metolius gear?
I love the Bravo Quickdraw. For me it's the perfect combination of usability and weight.
The grey Ultralight TCU because it means I'm getting into some gnarly sh*t!