Beth interviews Liv Sansoz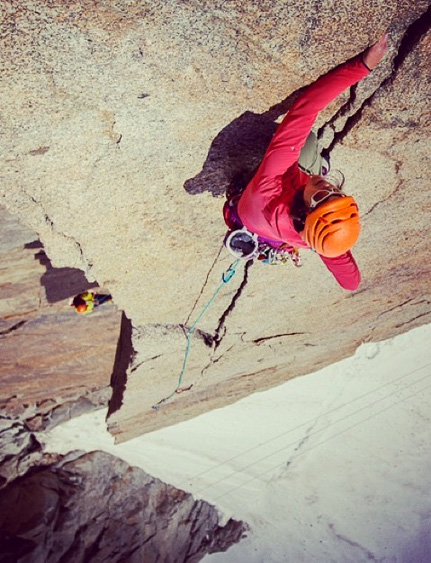 Photo: Bertrand Delapierre
I first met Liv Sansoz in Laval, France in 1995. We were both competing in the Junior World Championships. It was my first time competing internationally and I felt as if I was in the presence of giants. Liv was in the next age category above me, and watching her left my jaw gaping open. She had amazing fluid movement, commanded the routes, and never seemed to get tired. It was like watching a master at work.
Over the years Liv went on to become a multi-year World Cup Champion. It seemed like any competition photo I saw, Liv was standing on top of the podium. She also climbed some of the hardest sport routes in the world. After an unfortunate climbing accident left her recovering for a few years, Liv came back with a new found love for adventuring in the mountains. Now, she is one of the most talented all-around female climbers and athletes out there. Her Instagram account showcases her home life in Chamonix and her far off expeditions around the world.(list Instagram name)
She was kind enough to answer some of my questions. I hope you are inspired as I am!
You are one of the most accomplished female climbers out there; tell me a little about your history in climbing.
Liv: I was born in the north Alps and grew up in the mountains. I was skiing at 2, and I starting to do some ski touring and alpine climbing at the age of 10. At 14 I discovered climbing for itself, not just climbing a few steps to reach a summit. I loved it and got really into it. At 15, I asked my parents to build a personal climbing wall at home so I could climb more. I got involved in the national team at 16 and did all the world cup and other competitions for 8 years. It was a great time and I learned a lot.
What did your path away from comp and sport climbing look like?
Liv: My competition career ended due to an accident caused by a bad belay. It was not how I wanted but I could not choose. Someone made a mistake and got me injured. Such things can happen. It took me a few years to recover. But the envy and the pleasure for climbing came back. At the same time I felt the need for some change and for learning new things. I wanted to learn about big wall climbing, so I did. I also realized I was missing being the mountains a lot. So I got into alpine climbing more and more.
What inspired you to start adventuring in the mountains?
Liv: Since I grew up in the mountains and had also heard or read stories about ascents I had always been interested in it. I climbed Mont Blanc in Chamonix when I was 15 and if I had not competed at the same time I would have done much more alpine climbing. It was just a question of timing. I chose competitions first and won a lot of world cups and world championships. And now I'm older, not has strong at sport climbing but I have new skills, better endurance and another mindset.
Who have been some of the biggest mentors and heroes in your life?
Liv: During the competing years, I really admired François Legrand and Robyn Erbesfield. They were the 2 best climbers at the time. When I started they gave me really good tips, took me on training or climbing trips which made me grow fast in my competing career. Nowadays there are quite a few men and women who I realize are or were "big things" and who inspire me.
How do you dream up your adventures? Is it purely the fun and experience aspect? Or is it travel with friends as well?
Liv: I think the most important thing for me is not what I/we will climb/ski/fly but with who I'm going to do it with. What I share with my friends is more important than the pure performance aspect. Of course, if I can go for something a bit serious with Nils or a really good friend and we live the experience fully in a pure and true friendship, it's the icing on the cake ;)
What does a typical day look like for you in your home of Chamonix?
Liv: Ah! There is not one day like another here. It could be a small day in the mountains, for instance, getting up to the glacier first thing, climbing a moderate mixed line and flying down back home with the paraglider by 11 am. Then I would work. It could be a big day in the mountains, like a long and technical climb that takes you two days. It could be a morning skiing a great line, an afternoon flying from the Midi lift and an evening training at the gym. In Chamonix everything is so close that in one day you can ski, climb, fly or ski, climb, run. "Multi-activity" is for sure a prevalent thing for me.
What does a typical year look like for you in terms of time at home versus travel versus big trips?
Liv: I really like my life here in Chamonix, the community, the rhythm of the season and the amazing and endless playground 5 minutes away from my house. So I'm very happy to spend as much time here as possible. But I enjoy traveling too, meeting new people and understanding other cultures. I try to do at least one expedition a year (max two) and then some shorter trips. I would say now it's 75% of my time at home and 25% away. I think it's a good ratio and I also like the fact I'm driving less and taking fewer planes. It's better for the planet and it's better for us humans.
You take part in so many great sports, do you have a favorite?
Liv: I love climbing, skiing, running and paragliding but I my favorite one is climbing.
Lastly, what are your 3 favorite pieces of Metolius gear?
Metolius does a lot of cool things! The Fat Cams are awesome in Indian Creek and some other places of the same type of terrain. I really like using the Ultralight TCU. And I have spent some of my best nights on a Metolius portaledge.