Shipping Methods
We only offer online orders to the US. To purchase Metolius products in Canada, please visit https://www.mec.ca/en. All orders are shipped via United Parcel Service (UPS). We do not accept orders to PO Boxes or APO addresses.
The shipping methods we offer are:
UPS Ground (free ground shipping on all orders over $80.00)
3 Day Select Ground
2 Day Air (2 Day is the only option for AK and HI)
For UPS Next Day Air and orders shipped to PO Boxes or APO addresses you must contact customer service by phone to place the order (541) 382-7585. For ordering outside of the United States please see "International ordering" below.
Shipping Cost
Shipping cost is determined by weight/size, distance to destination and shipping method.
Ground shipping time chart
Below is map for approximate number of shipping days for the US. Times maybe slightly longer during busy holidays.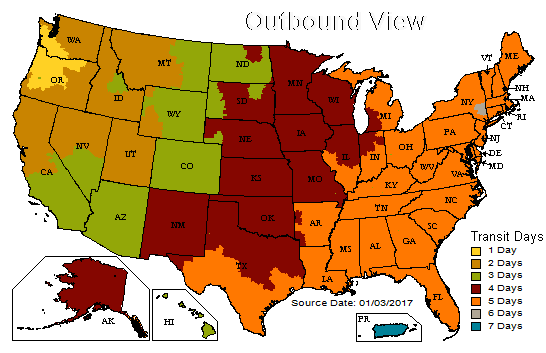 Your Order will Ship
Online orders are generally shipped the next business day after we receive your order via UPS. We make every effort to ship 2-Day Air and Next Day Air requested orders the same business day we receive them. However, orders must be received by 12 PM/noon Pacific Time to ensure this service.
Tracking your order
If you did not receive your UPS tracking number and you need to track your order contact our customer service at info@metoliusclimbing.com.
Privacy
All personal information is confidential and will never be used by third parties in any way. Metolius may use your information in the event we need to contact you about your order or to send order and shipping confirmations.
Security
All orders placed through MetoliusClimbing.com are securely processed by SSL encryption certificates through a secure server and credit cards are pre-authorized by Authorize.net.
International ordering
Metolius does not accept or ship orders to customers from outside the United States or Puerto Rico. To purchase Metolius products in Canada, please visit https://www.mec.ca/en. If you live outside of the US, please check with your local distributor, click here . If you are in a region that appears to not have a distributor, please contact info@metoliusclimbing.com