Gym Draw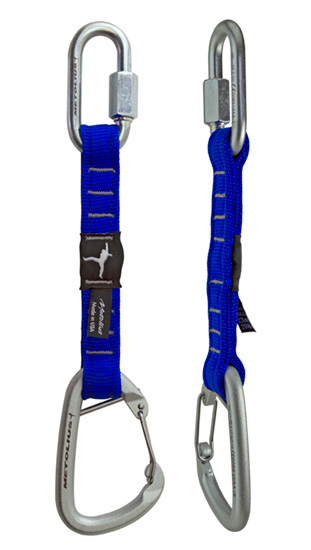 Gym Draw
This is an aggressively priced 6" quickdraw, built with an 10 mm Quick Link, a Steel Gym Carabiner with a captured eye, and a burly, double-layered, ¾" nylon sling for maximum durability.
Weight: 9.8 oz. (277 g)
Strength: 22 kN (4950 lbf)
Colors: yellow, blue, red, black
Price: $16.50
Steel Gym Carabiner
The Steel Gym Carabiner has a wire gate and a captured eye. Use it with or without the removable pin.
Weight: 4 oz. (115 g)
Size: 3.9" x 2.3" (95 mm x 60 mm)
Strength: 35 kN (7868 lbf)
CE/UIAA certified
Price: $6.95
Steel Quick Link
The 10 mm Steel Quick Link is aggressively priced, making it a great leaver 'biner. It is perfect for fixed quickdraws and anchors.
Weight: 5.1 oz. (144 g)
Size: 3.5" x 1.75" (88.9 mm x 44.4 mm)
Strength: 30 kN (6744 lbf)
CE/UIAA certified
Price: $3.65
Gym 'Draw Replacement Slings
Our super-durable gym 'draws now available in five sizes: 6"/9"/12"/15"/18". Available in 4 s.k.u. specific colors: yellow, blue, red, black. These slings are custom ordered, please contact customer service to place order info@metoliusclimbing.com.

Strength: 22 kN (4950 lbf)
Hardware not included
Price: 6" $8.35, 9" $10, 12" $11.65, 15" & 18" $13.35